An Employee Recognition Platform that Works
3Cheers is a platform that is flexible, simple, and opens up a world of choice. We won't tell you that we know your business, but we do know people and which rewards are most motivating to them.
3Cheers will provide you with easy access to those rewards and the autonomy to create a program that suits your company.

Want to see what results you can expect? Try our ROI calculator.
5 Steps to an Effective Recognition Program
Step 1
Create Your Account
Completing the quick, 5-step account registration form. After creating your account for just $250, you will be able to personalize your account page with a logo, a business image and your own welcome message.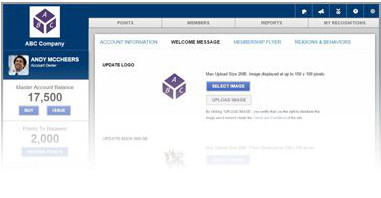 Step 2
Buy Points & Allocate Budgets
Purchasing a points budget is an easy online purchase, backed by a secure and proven credit card processing system. With the budget in hand, allocate points to your managers with the simplicity of online banking.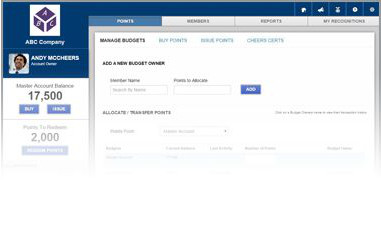 Step 3
Issue Points To Your People
Any budget owner can issue points to members for any reason – performance, sales incentives, service anniversary, or whatever lines up with your company's objectives. Issuing recognitions happens online, but delivery can happen by email and/or print.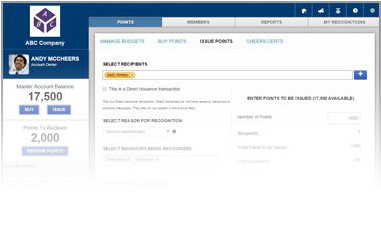 Step 4
Redeem Points For Meaningful Rewards
3Cheers Rewards is a collection of merchandise (3,500+ brand name items), gift cards, media downloads, and experiences. Items in the collection have been purposefully chosen to provide a motivating impact for employees. We merchandise this collection monthly with specials and featured items.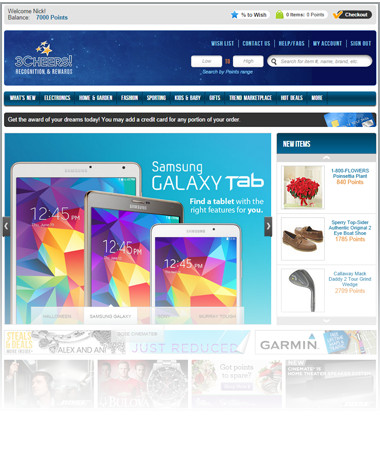 Step 5
Monitor Your Online Reports
Check points balances and the use of budgets by your managers. See who is effectively using the tool and which associates are being recognized the most. Download reports to submit to your payroll team.